Ocedurenone Featured at Kidney Disease Clinical Trialists 2023 Workshop: Insights from the BLOCK-CKD Study
Mar 17, 2023
PRINCETON, N.J., 17 March 2023 -- KBP Biosciences PTE. Ltd. ("KBP Biosciences" or the "Company"), a clinical-stage biotechnology company dedicated to research, development, and commercialization of innovative medicines for the global market, today announced that insights from the BLOCK-CKD study were presented at the Kidney Disease Clinical Trialists 2023 Workshop (KDCT) held in Washington DC, March 3-4, 2023. Invited speaker Fred Yang PhD, Chief Development Officer at KBP, presented his perspective on the design and results of this Phase 2 study and implications for the unmet needs of patients with uncontrolled hypertension and advanced CKD.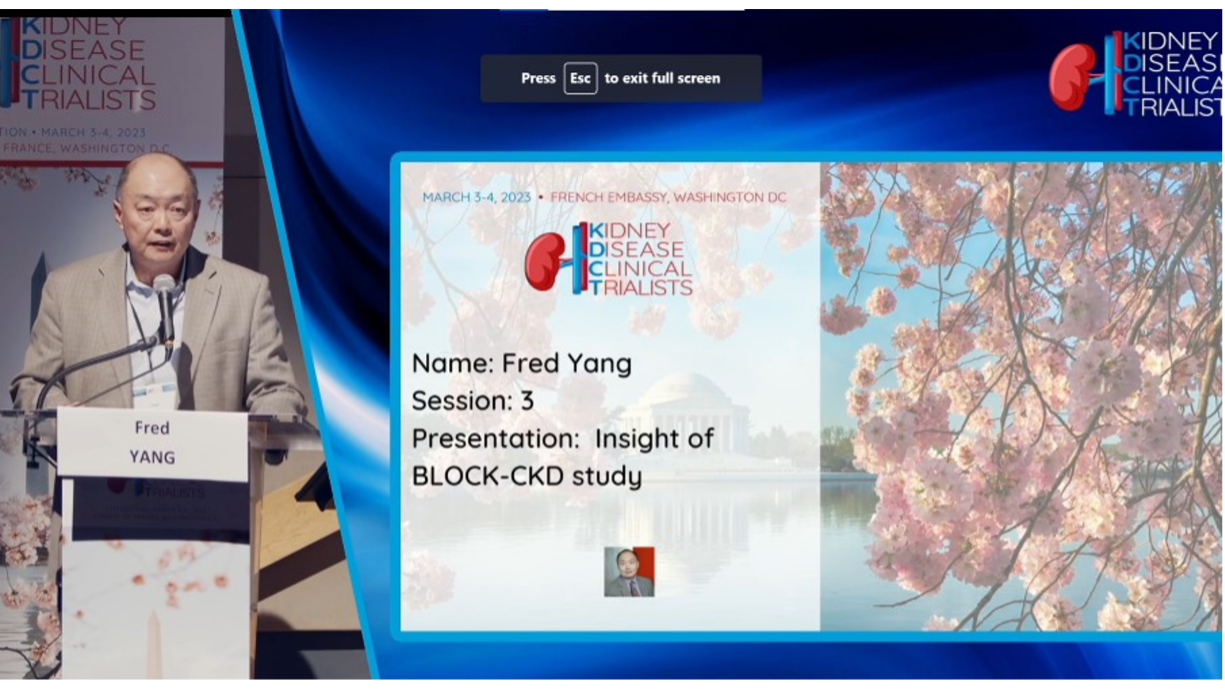 (Picture:Fred Yang PhD, Chief Development Officer at KBP)
The presentation by Dr. Yang provided the study rationale and design of BLOCK-CKD which focused on unmet the medical need for control of HTN in stage 3b/4 CKD patients. He also elaborated on the consistency of Ocedurenone in terms of both blood pressure lowering effect and safety across different subgroups, especially in stage 4 CKD patients, as well as the clear dose response trend of renal protection based on UACR data with a standard urine collection method.
The stage 3b/4 CKD patients have a high disease burden, limited viable treatment options, and may progress to ESRD and dialysis. Conducting clinical studies in these patients is challenging and complicated by assessment of SBP and UACR which can vary significantly. Nevertheless, the BLOCK-CKD study demonstrated that Ocedurenone reduced SBP by an average of 10.6 mmHg (placebo subtracted), had neutral effects on eGFR, demonstrated dose dependent trends in albuminuria reduction, and was well-tolerated with minimal hyperkalemia. The study design of the current Phase 3 CLARION-CKD clinical trial was also presented; it is the only Phase 3 study which targets patients with advanced CKD including stage 3b/4 (eGFR 15-44).
"The Ocedurenone clinical development program represents an audacious attempt to address the high unmet medical need of patients with advanced CKD," stated Professor Patrick Rossignol, KDCT Workshop Director and Head of the Medicine specialties -nephrology dialysis departments at the Princess Grace Hospital in Monaco and FCRIN INI-CRCT network coordinator. "It is a bellwether approach which researchers and developers should reference when developing much-needed new therapies for patients with advanced CKD." "The ongoing Ocedureone Phase 3 study (CLARON-CKD) is critical part of the solution for the unmet medical need," added Fred Yang, Ph.D., Chief Development Officer of KBP Biosciences.
About Kidney Disease Clinical Trialists 2023 Workshop
The Kidney Disease Clinical Trialists (KDCT) Workshop is a high-level think-tank, with an exceptional expert faculty. It involves a limited number of attendees (90-100) and includes distinguished nephrologists, clinical trialists, principal investigators and statisticians from academia, R&D pharma and device companies, NIH, EMA and FDA. The KDCT Workshop aims to foster an international exchange of ideas where it will brainstorm on trial design, conduct, ethics, interpretation, approvability and implementation encompassing drugs, devices, biomarkers and therapeutic strategies for kidney disease. Its objectives are to produce relevant data from controlled kidney disease clinical trials (beyond cardiovascular outcomes trials) that will contribute to better clinical care and to understand the problems associated with making decisions about what constitutes relevant information, how to improve kidney disease clinical trials, and, as is commonly the case, how to satisfy regulatory authorities and payers.
About KBP Biosciences
KBP Biosciences is a global, clinical-stage biotechnology company, headquartered in Princeton, NJ, focused on discovering, developing, and commercializing innovative small-molecule therapeutics for the treatment of serious cardiorenal and infectious diseases with large unmet medical needs. KBP Biosciences' pipeline includes several novel drug candidates covering multiple indications. CLARION-CKD, the global Phase 3 clinical trial of Ocedurenone (KBP-5074), is being conducted in patients with advanced CKD and uncontrolled hypertension.
About Ocedurenone (KBP-5074)
Ocedurenone (KBP-5074) is a non-steroidal MRA discovered and developed by KBP Biosciences. Ocedurenone selectively binds to recombinant human MRs with much higher affinity than to recombinant human glucocorticoid, progesterone, and androgen receptors, resulting in more profound antihypertensive, renal, and cardioprotective effects. At present, the Phase 3 clinical trial of the first indication for Ocedurenone, advanced CKD and uncontrolled hypertension, is underway. Other indications of Ocedurenone are planned, including CV risk reduction, CKD progression, heart failure, etc. Ocedurenone has been investigated in nine clinical studies including the BLOCK-CKD Phase 2b study. Ocedurenone is expected to provide a new treatment option addressing the unmet medical needs of patients with advanced CKD and uncontrolled hypertension.
Block-CKD was a randomized, double-blind, placebo-controlled, multi-center, Phase 2b study to assess the efficacy, safety, and PK of KBP-5074 0.25 mg QD and KBP-5074 0.5 mg QD versus placebo in patients with moderate to severe CKD and uncontrolled hypertension and demonstrated significant blood pressure lowering with minimum risk of hyperkalemia. The subgroup analysis was conducted to evaluate safety (eGFR change and serum potassium levels) and efficacy (SBP reduction) of Ocedurenone in patients across different CKD stages, and with or w/o diabetes. Similar small dose-dependent increases in serum potassium were observed in nearly all subpopulations. Consistent and clinically meaningful SBP reduction at Day 84 was observed in the subgroups analyzed. These conclusions are being confirmed in a larger ongoing Phase 3 trial ("Clarion-CKD").
For more information about KBP Biosciences, please visit the company website at https://www.kbpbiosciences.com/
Contacts:
Investor Relations:
ir@kbpbiosciences.com
Public Relations:
pr@kbpbiosciences.com